My fleeting "rein date" with Alex Añón and Ryan Pavlik of Bucephalus Bikes.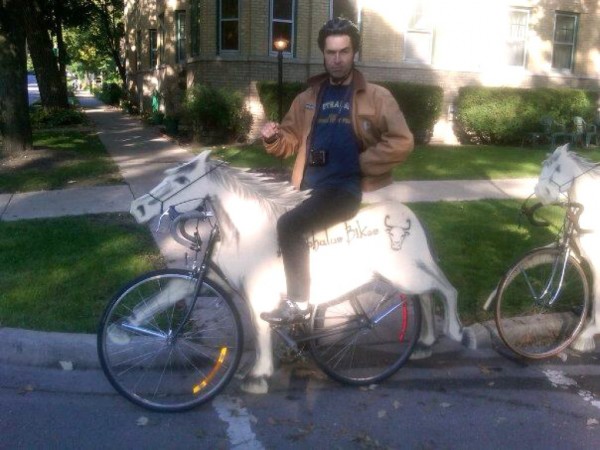 One thing Evanston has a reputation for is quirkiness; Alex Añón and Ryan Pavlik, co-owners of Bucephalus Bikes, brought that notion to life the morning of Oct. 5 while riding their "specialized" bikes around town during Washington Elementary School's annual "Walk-and-Roll To School Day," a local celebration of International Walk To School Day.
Wondering what's up with the horses? Here's a little background from Bucephalus Bikes' website:
Bucephalus was the name given to Alexander the Great's horse.  According to legend, Bucephalus was an exceptionally loyal horse.  Alexander had a special bond with him and the pair sparked a cult in which it was expected that great leaders have a favorite horse.   The literal meaning of Bucephalus is "ox head" from the ancient Greek words, bous and kephale.

In the 1930's, Fred Birchmore,  a man from Athens, Georgia, traveled around the world on a bicycle.  He named his "two-wheeled companion" Bucephalus.
In 2009, we adopted Bucephalus' name for our new bicycle repair shop in Evanston, IL. Whether you are planning to conquer the world, ride around it, or simply trying to get some exercise while getting places, Bucephalus Bikes is a shop all riders can depend on for their cycling needs.
On Wednesday morning, as I walked out of my house, I caught sight of these two grown men riding "horsebike" down my street. With one hand on my full coffee cup and the other scrounging for  my cell phone, I screamed, "That's HILARIOUS. Please stop so I can take your picture!" Luckily, they pulled up on their reins just in time for a few shots with my camera phone.
Añón and Pavlik mentioned they'd "galloped" along in a similar fashion during last Sunday's Bike The Ridge event, as well.
See source here