When:
December 1, 2018 @ 8:00 am – 4:00 pm
2018-12-01T08:00:00-06:00
2018-12-01T16:00:00-06:00
Where:
Bucephalus Bikes
1424 Lake Street
Evanston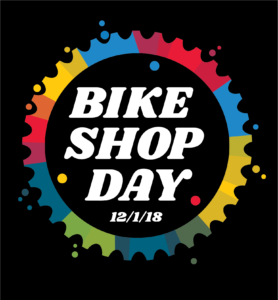 BIKE SHOP DAY is an all-day event to celebrate the unique culture of local independently-owned bike shops and their connection with their communities. Inspired by Record Store Day, the event was started in 2017 by the folks at 718 Cyclery in Brooklyn, NY. Bike Shop Day is about inclusiveness, a healthy lifestyle, and sustainable local business practices. We think it is a fabulous idea and a great fit for our shop, so we joined the celebration.
We'll start the morning with coffee and bagels. And throughout the day, we'll have giveaways and exclusive Bike Shop Day sales. We'll offer a free flat tire clinic at 11 am and 2 pm. Join us for the fun and festivities. Support your local bike shop!